Chris Sale
, Chicago White Sox starting southpaw, ran his mouth in support of his teammate
Adam LaRoche
, who retired from his $13 million contract for the 2016 season. By now you've probably formed an opinion on whether LaRoche is a dedicated family man or a nut who just deprived his family of lots of money. The issue was an unwritten and apparently not well defined agreement between LaRoche and the White Sox about how much LaRoche may keep his 14 year old son with him while LaRoche performs his White Sox duties.
LaRoche is 36 years old and 2016 would probably be his last season. In 2015, his first with the White Sox, LaRoche was terrible, mostly as a DH: OPS+ 78 in 484 plate appearances. His retirement did the White Sox a favor, something that his sympathetic teammates don't seem to realize. That $13 million could be put to much better use to improve the ball club.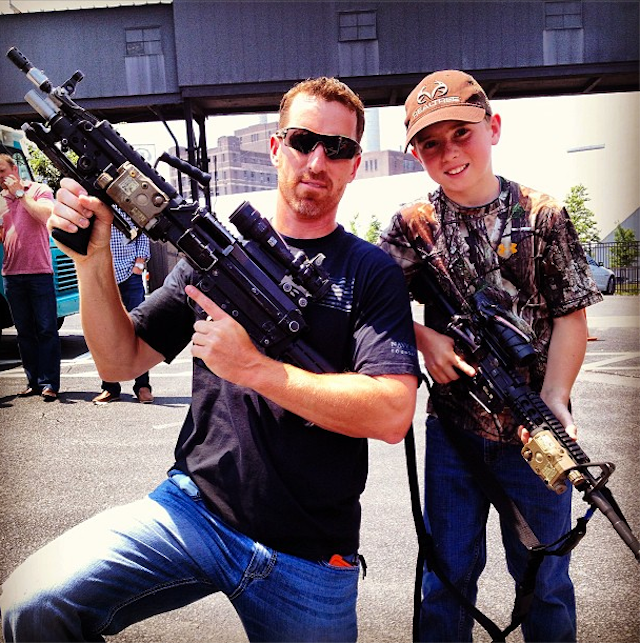 LaRoche home schooling his son.
The New York Times reported that LaRoche the younger is being home schooled, apparently at the ball park. How come none of LaRoche's teammates wondered why the kid was not in school? So now LaRoche has the time to school his kid at home.
According to
baseball-reference.com
LaRoche has been paid $72 million in his 12 year career, so maybe the LaRoche family won't miss the $13 million that LaRoche just left on the table.
So far the only comment from 80 year old White Sox owner
Jerry Reinsdorf
has been no comment. However, I'm guessing that the owner and his upper management are seething over the rank insubordination of Chris Sale, which in 90% of organizations would get the person fired or disciplined.
It Looks Like A Bunch Of White Sox Players Had A Problem With Adam LaRoche's Teen Son
by Patrick Redford
Today 2:10pm deadspin.com
Sox ace Chris Sale has voiced his displeasure with team president Kenny Williams for depriving the clubhouse of a 14-year-old hunting enthusiast, and Williams seems to be shouldering most of the blame ..
LaRoche would apparently bring him on the team's charter flights and let him take drills with the team... the White Sox were surprised at just how involved (the kid) was ...
This very dumb controversy over a baseball player bringing his son with him on the road instead of putting him in school has gotten to the point where Sale is intimating that Williams should be fired ...
"Somebody walked out of those doors the other day,'' Sale said, "and it was the wrong guy. Plain and simple.''
___________________________________
Since 1996 Yankee pennant winners usually have two lefty starting pitchers: Pettitte, Key, Wells, Neagle, Lily. Thursday, March 17, 2016
Do the Yankees need a lefty starting pitcher to win it all? Tuesday, August 4, 2015
The only lefty starter the Yankees have is 35 year old
CC Sabathia
, who deserted the team in 2015 just before its do-or-die wild card tournament loss to Houston. Sabathia entered alcoholic rehabilitation. In 2016 spring training
Sabathia is overweight and ineffective. I could see the Yankees excluding
Sabathia from the opening day roster.
Chris Sale will be 27 on March 30; career ERA+ 140 in 883 innings. He is signed to a team friendly contract through 2019, age 30. If the White Sox want make an example of Sale and dump him, they could demand a lot in return. The Yankees may not have enough young talent to make a deal but they should try. Maybe include 22 year old highly regarded minor league righty starter
James Kaprielian
. Yankee GM Brian Cashman should do more than just sit behind home plate at Yankee exhibition games looking stoic.