At least one catcher (
Muddy Ruel
)
was NOT squatting at late as 1925. See the previous post:
Catchers once stood upright and roamed the earth much like their human counterparts.
Wednesday, March 26, 2014
June 1, 1925 ... the catcher ... stays in an upright position the entire time. He never squats.
The catcher is also considerably further back from the batter and the umpire is also separated from the catcher and not touching him as he would be today.
_____________________________________________
I tried a quick Google search but did not find an answer. I had thought that
Yogi Berra
(1946-1963, 1965) may have started catching in more of an upright position. I searched and found a couple of posed photos of the young Yogi clearly squatting: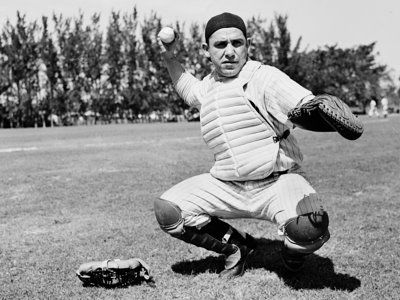 I decided to try Bill Dickey
(1928-1943, 1946)
, who "taught all of his experiences" to Yogi, and I found mixed images, some squatting, some standing but not quite erect:
In the Time cover photo Cochrane has the in-between position. That's ten years after Muddy Ruel is seen standing. In anther photo Cochrane is demonstrating but not all the way down.
This was not intended as an exhaustive examination. Please add comments to this blog with information that address the issue. Thanks.
Mickey Cochrane
cover of Time Magazine 1935