What the Yankees really need is for Mark Cuban to buy the team from the Steinbrenner Kids and then clean house and turn it around. Yesterday the Yankees honored their former manager
Joe Torre
who was just inducted into the Hall of Fame. The Yankees humiliated and forced Torre out after the 2007 season. Torre got a plaque in monument park. This season alone the following players who did not spend their entire careers with the Yankees received plagues:
Goose Gossage
,
Tino Martinez
and
Paul O'Neill
. And we still have
Derek Jeter
events remaining. Yankee fans are being kept much too busy to notice what a colossally lousy management job is being done. Or are we?
While the Yankees were otherwise occupied their hated rivals, the Boston Red Sox, signed the most recent Cuban expatriate Rusney Castillo who was introduced at a news conference.
Red Sox finalize deal with Cuban star Castillo
Outfielder completes $72.5 million deal through 2020 with Boston
By Ian Browne MLB.com 8/23/2014 7:37 P.M. ET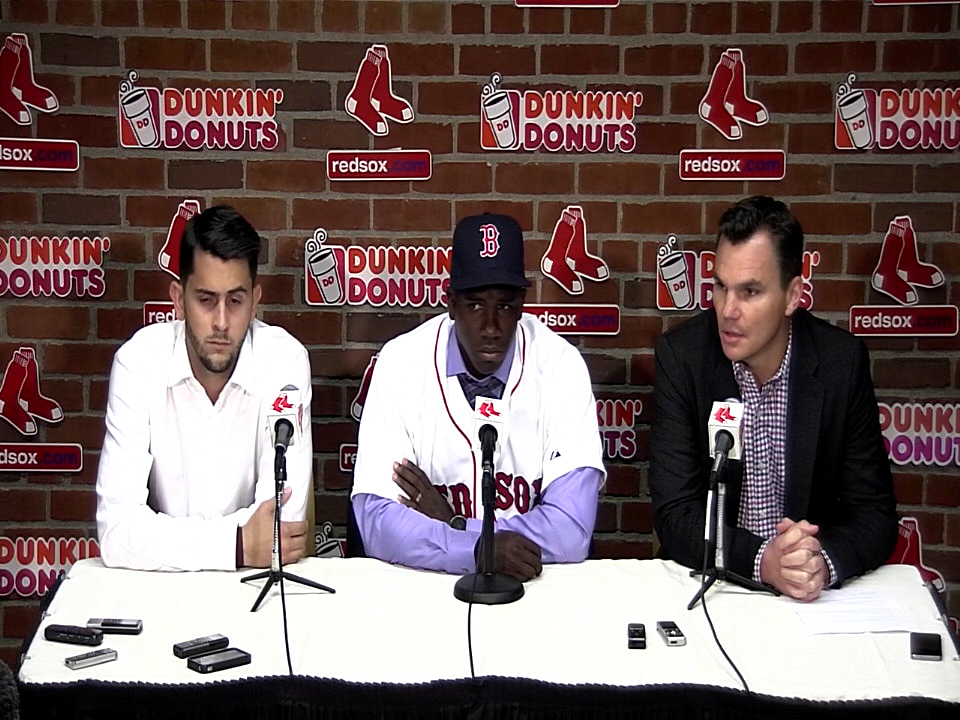 "We've had several scouts see him over a number of years and built some history that way," said Cherington. "You can recognize the bat speed, the swing path, the power, the ball comes off his bat really well, etc. and we have spent quite a bit of time sort of mining whatever data is available to us out of Cuba, performance data, and we feel like we are getting more and more precise in our ability to sort of translate that and figure out what it means."
_____________________________________________
The Yankees in recent years have missed the boat and were outbid on other Cubans, all still in their 20s:
Dodgers:
Yasiel Puig
7 yrs/$42M Arb Eligible: 2019, Free Agent: 2020
As:
Yoenis Cespedes
Signed thru 2015, 4 yrs/$36M
White Sox:
Jose Abreu
Pre-Arb Eligible, 6 yrs/$68M Free Agent: 2020
Cespedes: July 31, 2014: Traded by the Oakland Athletics with 2015 competitive balance round B pick to the
Boston Red Sox
for
Jonny Gomes
,
Jon Lester
and cash.
During the off season the Yankees signed two expensive free agent players for positions that did not need to be filled.
Brett Gardner
played center field in 2013 and is the leading Yankee batter in 2014.
Francisco Cervelli
is hitting well in 2014 as the backup catcher; the only Yankee minor league position with depth is catcher. Yet the Yankees wasted money on:
-
Jacoby Ellsbury
Signed thru 2020, 7 yrs/$153M (31 in September)
-
Brian McCann
Signed thru 2018, 5 yrs/$85M (30).
Also:
Carlos Beltran
Signed thru 2016, 3 yrs/$45M (37). Too broken down to play right field.
The Red Sox just signed Castillo for $72 million, less than half the money the Yankees are paying Ellsbury; both play center field.
The Yankees are in a downward spiral and there is no escape. Once Jeter is gone, they can bring him back for another ceremony next season and have one for
Bernie Williams
. Then what? Do they think Yankee fans can be played for fools forever?