This is not as much of a Twilight Zone deal as you might think.
Tom Greewade scouted for the Brooklyn Dodgers from 1940 through 1945, becoming the Dodgers top scout.
SABR bio
on
Greewade
by
Jim Kreuz
: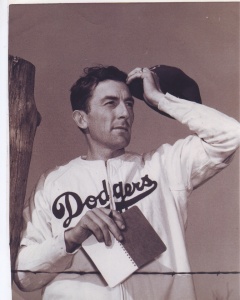 In 1940, while he was managing the Class D Paragould Browns in the Northeast Arkansas League, the Brooklyn Dodgers made him an offer to come scout for them and he jumped at the opportunity. There he became Brooklyn's, and later Branch Rickey's, top scout.
The first thing club president Branch Rickey did after moving over from the St. Louis Cardinals organization was gain approval from the Brooklyn Dodgers owners in early 1943 to begin signing "colored" ballplayers...
With the owners' blessing, the Dodgers president rushed to set up a secret meeting with his top scout, Tom Greenwade, at the Biltmore Hotel in Kansas City to relay his plans. This took place more than 2½ years before the signing of Jackie Robinson...
Greenwade beat the bushes for the Dodgers until December 1945, when he signed on with the New York Yankees. He conferred with Rickey before making the move and Rickey chose not to hold him back, knowing the Yankees would make him the highest-paid scout in baseball, which they did. His annual salary leaped from $3,600 to over $11,000 (including an annual bonus)...
Jackie's Scout – Tom Greenwade (and no one else)
In the 1956 Sporting News article, Harold Rosenthal wrote, "In Brooklyn, Greenwade played a vital role in one of the game's greatest dramas, the cracking of the color line. He was the only scout used on the Jackie Robinson job ...
Jackie had played shortstop for the Kansas City Monarchs, but played first base one season before switching to second base for the Dodgers, just as Greenwade had predicted.
"I saw Jackie play about 20 times … but I never spoke to him once. When I finally did speak to him he had already made the Dodgers and I was scouting for the Yankees. John Griffin, the Brooklyn clubhouse man, introduced us in St Louis."
Greenwade added in the Rosenthal article, "'I want to make it very clear that I was the only scout used on Robinson. The only time Clyde Sukeforth went to see him it rained and they didn't play.' ...
My impressions of Tom Greenwade are that he was a very modest man, and did not go around bragging about his exploits, but wanted to keep the facts straight...
Clyde Sukeforth: Robinson Recommendation
Clyde Sukeforth has at times been given credit as the scout who recommended Jackie Robinson, yet we now know he was used as a checker by the Dodgers to confirm Tom Greenwade's recommendation. In a November 28, 1993, phone conversation, Sukeforth described his involvement in this process.
"I didn't see him play before we signed him. (Rickey) knew a lot about Robinson. He just sent me down there to check out his arm...
__________________________
OK, that establishes Tom Greenwade's credentials as a Dodger scout, which probably comes as surprise to most Yankee fans. More from the
SABR bio
:
The Mick
Each scout is typically associated with his top signee, that marquee player no one else took note of but him. For Tom Greenwade that player was Mickey Mantle. How the two became forever linked has been retold many times ...
Major-league players he is credited with signing include George Kell, Loy Hanning, Rex Barney, Leroy Jarvis, Cal McLish, Tom Warren, Red Barkley, Red Durrett, Monty Basgall, Bill Virdon, Pee Wee Reese, Gil Hodges, Hank Bauer, Tom Sturdivant, Elston Howard, Ralph Terry, Bobby Murcer, and one you'll learn more about later on, Jackie Robinson...
He would occasionally make a recommendation to trade for an established player. Few know that he was the man who suggested the Yankees trade for a young Kansas City Athletics outfielder named Roger Maris after the 1959 season, and it didn't take long to prove Greenwade's genius. The new Yankees right fielder won back-to-back MVP awards, in 1960 and 1961, and broke Babe Ruth's single-season home-run record in the latter season...
Tom Greenwade's Final Chapter
Greenwade went on to sign a number of ballplayers for the Yankees, his most notable being Mickey Mantle, but the player he was most proud of recommending was Jackie Robinson...
In 1964 Tom Greenwade left the Yankees and his scouting career to live out the rest of his life in his home town of Willard, Missouri. He died in 1986 at the age of 81. If Tom Greenwade isn't the best baseball scout who ever lived, you could probably fit those deemed better in the front seat of his Cadillac next to him.
________________________
Note 1: I do not know why Greenwade is credited with signing
Pee Wee Reese
since the Greenwade SABR bio clearly states that Greenwade joined the Dodgers in 1940.
SABR bio
on Reese
by Rob Edelman
:
... midway through the 1939 campaign, the Red Sox sold Reese to the Brooklyn Dodgers ...
___________________________
Note 2: There are no publication dates on these SABR bios, nor any indication of cross referencing. SABR should consider putting this in a wiki and modernize the entire effort.
___________________________
Note 3: Tom Greenwade is not portrayed in either movie about Jackie Robinson but Clyde Sukeforth is.
http://www.imdb.com/character/ch0359016/
Clyde Sukeforth (Character)
42 (2013) Played by Toby Huss
... aka "42: The Jackie Robinson Story" - USA (DVD box title)
The Jackie Robinson Story (1950) Played by Billy Wayne
___________________________
Back to the post.
What the heck was Branch Rickey thinking letting Tom Greenwade go to the Yankees? Had Greenwade remained with the Dodgers it seems very likely that he would have signed Mickey Mantle to play for the Brooklyn Dodgers. Had this happened it could have had huge implications for major league baseball.
1. Mantle played four World Series against Brooklyn: 1952, 1953, 1955, 1956. The Dodgers won only in 1955 when Mantle was injured and had only 10 plate appearances, including a home run in game three in Ebbets Field off
Johnny Podres
, the series hero for winning that game and shutting out the Yankees at the Stadium 2-0 in game seven. Mantle's injury is never mentioned in any of the sappy mini documentaries about that lone Brooklyn championship. Had Mantle played in those four WS for the Dodgers it's possible that the Dodgers might have swept all four, even assuming that the Yankees would have won any of those four pennants without Mantle..
Mantle would have been hitting against better pitchers and we have little or nothing to go on regarding how he might have done against the key Yankee starters:
Allie Reynolds
- never faced
Whitey Ford
- never faced
Eddie Lopat
- two homers in five at bats
Vic Raschi
- 0 for 6, plus a walk
Yankee shortstop
Tony Kubek
(1957-1965) once exaggerated that Mantle would have hit 1,000 home runs if he had played his home games in Ebbets Field, Brooklyn's home park, instead of Yankee Stadium. While this is silly, it does suggest that the switch hitting Mantle might have been even more of a force as a Dodger. The Dodger outfield would have been
Duke Snider
, Mickey Mantle,
Carl Furillo
.
2. Brooklyn defeating the Yankees from 1952 through 1956 might have given the Dodgers enough leverage to get that new ball park they wanted in Brooklyn. That would have meant that the Giants would have moved someplace and there would never have been an expansion team added in 1962: the Mets.
Los Angeles would have gotten a major league team about the time that the Dodgers moved there in 1958. Maybe it would have been in 1961 or 1962 but probably no later. Depending on the year, the name might likely have been after an old Pacific Coast League team: Angels, Stars, ... The Giants might have moved to Minneapolis, their AAA minor league location, instead of San Francisco. That would have meant that the old Washington Senators would have moved somewhere other than Minneapolis to become the Minnesota Twins. Hey, maybe to Los Angeles or San Francisco. You can see how all this would have a ripple effect.
New York 3 team attendance 1920-1957 ... and comparison to California. Friday, June 20, 2014
The Yankees led in attendance most seasons...
The Giants were last in NL attendance in 1956 and 1957, despite having won the World Series in 1954. Even Willie Mays couldn't save them. The Dodgers were still drawing a million but both teams needed a boost such as a new ball park.
1920-1957: Yankees led in NY attendance every year except:
Giants: 1925, 1935
Dodgers: 1939, 1941, 1942, 1943, 1945...
1947-1956 Giants were outdrawn:
Yankees 41.7% (23,921 - 13,943) / 23,921
Dodgers 15.3% (16,466 - 13,943) / 16,466
The Dodgers have been by far the most successful of any MLB team after moving. Since leaving Brooklyn for Los Angeles, the Dodgers have had much better attendance than the Yankees, Giants or Mets ...
________________________________
Could New York support a third team? New York attendance v. others 1903-2013. Sunday, June 22, 2014
... not suggest that New York could support a third team...
... historically one New York team tends to draw considerably below the others. After World War II from 1946 through 1957 the Yankees dominated with the Dodgers a solid second and the Giants in second only twice: 1948 and 1954. The Giants won the World Series in 1954, the Dodgers in 1955. Both left after 1957.
________________________________
3. The Yankee dynasty would have taken a very wrong turn and might have relinquished its dominance to the Brooklyn Dodgers who soon were led by pitchers
Sandy Koufax
and
Don Drysdale
. Maybe many of the rules to thwart the Yankees would not have been implemented.
And this entire scenario because of a scout changing teams.